<! standard small logo on right>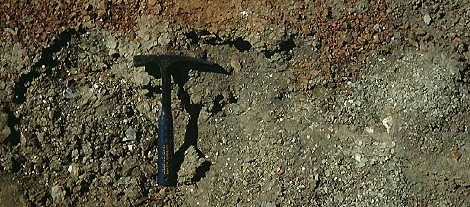 There are some fossils visible here. These include bivalves, gastropods, and small bits of bone. Click on the picture to see identifications in the frame below.
---
You are currently looking at rocks in the Moralis 1 channel, labeled 2 on the section at right. You may Return to a view of the vicinity of Moralis 1, or click anywhere on the section at right to explore further.
---
---
Sources:
---
Copyright © 1998 Athro, Limited. All Rights Reserved.
Written by Paul J. Morris mole@morris.net
Maintained by Athro Limited Date Created: 5 Jan 1998